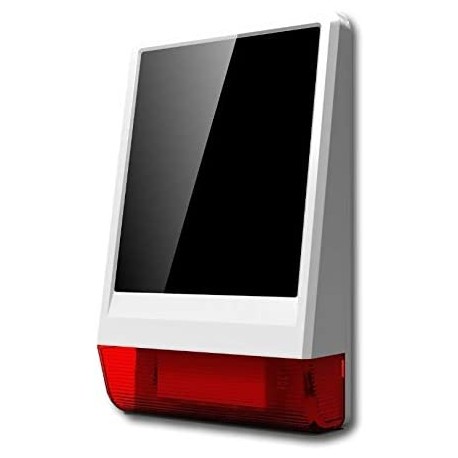  
POPP Solar Outdoor Siren 2
The POPP solar outdoor siren is the first energy-self-sufficient siren for Z-Wave systems. Due to its large solar panel, it can be used without any additional power supply or batteries. The siren can be installed on any place on the outside of the house and can be controlled using Z-Wave. This way it extends security systems and calls attention in case of a triggered alarm, without laying any cab
The POPP solar outdoor siren is the first energy-self-sufficient siren for Z-Wave systems. Due to its large solar panel, it can be used without any additional power supply or batteries. The siren can be installed on any place on the outside of the house and can be controlled using Z-Wave. This way it extends security systems and calls attention in case of a triggered alarm, without laying any cable. 
The siren issues a very loud sound (105 dB) and in parallel some stroboscope light.
Furthermore, the device is self-protecting. Removing the main device from the mounting unit, immediately starts the siren and reports the tamper attempt to the Z-Wave control center. All communication between the Z-Wave controller and the siren is encrypted and secured to protect against manipulation.
The POPP outdoor siren is maintenance-free and water-proofed (IP56). The average solar energy of one day keeps the device alive for up to 50 days (without using the siren in this time).
Features:
Energy-self-sufficient outdoor siren (photovoltaics)
Free positioning without any cable
Loud acoustic alarm sound (105 dB)
Optic signal (LED)
Tamper and theft protection
Water-proofed (IP56 protection class)
Wireless technology: Z-Wave Plus
1 altri prodotti della stessa categoria: